It is widely known that coffee has many health benefits, however we suspect that there are some other factors in the background which make billions of cups of coffee consumed every day around the world.
Some people love the taste, some the relaxing atmosphere coffee gives when shared with a friend or family, while others drink coffee to wake up and get a boost
We were curious about what people, who visit our wesbite, think about their relationship with coffee and why they consider important to consume it so we have conducted a survey which was open for 3 months on our website and 160 people took part in it.
A 1 to 5 rating scale was given to measure the priority of the following factors:
- taste of coffee
- energizing effect of coffee
- coffee drinking habit
- mood
Based on the results, we can say that the particular taste of the coffee is the most important aspect.
Beside of the special, bitter taste, the mood and the habit play very important role in the life of the coffee consumers too
We were surprised by the energizing effect of coffee coming up last on the priority list.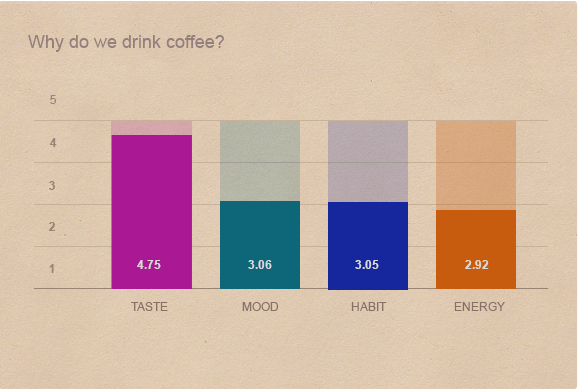 So what does this result mean?
The caffeine content of the coffee is not that important as we thought .
However coffee isn't just a warm energizing source, it's an amazing beverage itself which captivates us by its unique and inimitable taste.


Coffee creates a special atmosphere, it gives a sense of regularity to our life and it somehow binds all of us. The World would be worthless without coffee.