Quick guide about how our coffee machine repair service works
To be able to give you an estimate, you need to get your coffee maker to us.
We will provide you with a Free no Obligation estimate in 3-4 working days, having received your coffee maker.
Getting your coffee maker to us
1. You fill in our "Service form" what you find here >
2. Automated email will be sent with your reference number to your email address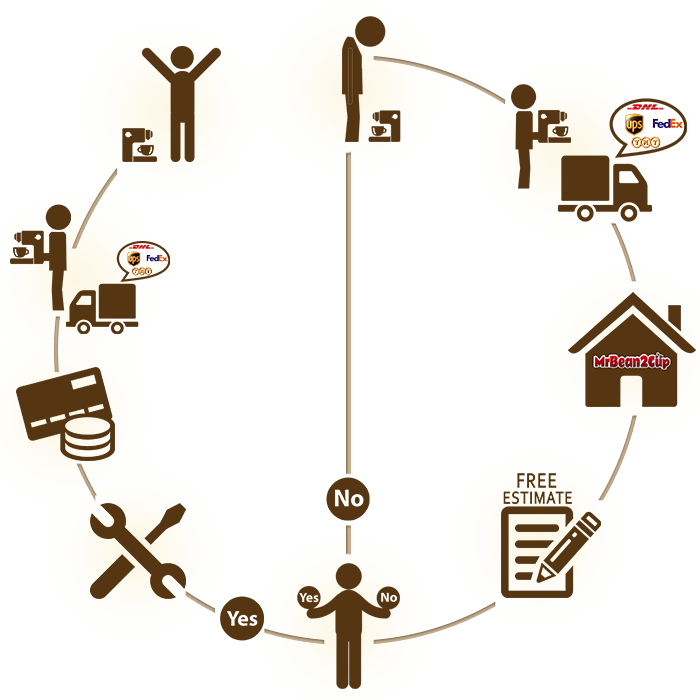 3. Get your coffee machine to us: You have 3 options as follows*: 

A, "In person"
You can bring your coffee maker to our workshop personally in our opening hours. 

B, "By third party courier"
You can book a third party courier on www.interparcel.com who will collect your coffee maker from a chosen address on a given date by you. Make sure you pack your coffee maker with care accordingly to our packing guide. 

C, Dropping off to our neighbour shop
You can drop off and collect from our neighbour shop as below: Metro Food and Wine shop
150 Greenford road, 
Harrow,
Middlesex,
HA1 3QP

Their Opening hours
Monday to Sunday 6:30am - 11pm

*Please do not forget to fill in our service form online and choose the relevant "delivery method"
4. After receiving your coffee machine, FREE, no obligation estimate given in 3-4 working days in an email
5. The repair procedure carried out in 1-2 working days which makes the whole turnaround time 5 working days
---
Getting your coffee maker back to you
7. Payment for repair service can be done by bank transfer or card on collection only!
8. When the service / repair is paid, you need to choose from the following options:
a. We courier the machine back to you for your peace of mind.
Transport fees
Manual machines: £19.99 (incl. VAT) 
Bean to cup machine: £19.99 (incl VAT)
b. You collect your machine personally from our workshop.
Our quotation does not include delivery back to you.
9. Our work comes with 12 months labour and parts warranty on all domestic coffee machine.
---
If you need, here are some helpful links: